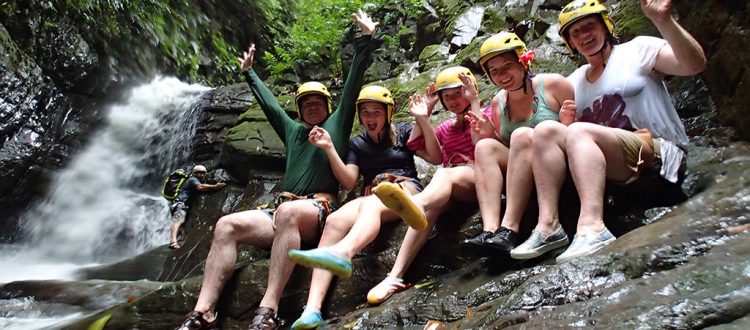 Adventure, surf, nature and retreatment in Dominical
If Dominical is a community that is quickly growing as a tourist destination, it's due to the great amount of healthy entertainment activities that the tourist can find in beaches and its surroundings.
The waves, left and right, strong, stable, quick and of good size, are an attraction for surfers who come for the international fame of rapids of the nearby Savegre river, the cleanest in Costa Rica. They are praised for the attraction they present to individuals and families, which also offers the opportunity of seeing many waterfalls.
Nature; the beaches, rivers, forests and tropical landscapes all contribute to the visitor's living great adventure experiences, with fun, entertainment and abstraction. It's an ideal place to spend some dream-like vacations, thanks to its natural wonders, easy access, kindness of its people and good infrastructure.
In Dominical and its surroundings, like the Marino Ballena National Park, the visitor has a variety of tours to choose from, such as surfing, rafting, whales and dolphins sighting, horse and foot trekking. The best thing is that, if you don't know how to surf, you'll have someone to teach you; and if you've never been on a raft, you'll have someone to instruct you.
There's also an excellent offer of restaurant with a wide variety of gastronomic opportunities which go from typical Costa Rican food to international specialties.
Another characteristic which makes this community an irresistible tourist destination, is the possibility of getting accommodations in four star residences, like the ones we offer in Villas By Tekoa; sets of apartments located in the areas of the communities of de Dominical and Uvita, in the canton of Osa.
We have luxury apartments for rents, with particular characteristics for each taste, with two, three, four and even five beds, extra big, Queen, simple, with independent bathrooms within the bedrooms, or shared bathrooms. We have acclimatized apartments or with air conditioners; equipped with kitchen, washing room, washing machine and dryer, cable TV, wireless Internet, hot water, dish washer and, if you so prefer it, limited cleaning service.
In Dominical and Uvita; surf, adventure, forests, rivers, the beach and sun are waiting for you to enjoy and clear your mind, with some memorable vacations. Contact us now, and book the apartment of your choice with time!