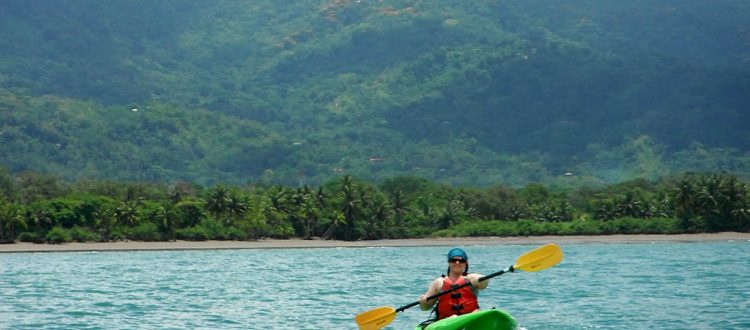 Tourist attractions in Uvita
With an ideal beach to swim, sunbath and amaze at the sunset, walk on its coral sands, under the palm trees, on foot or horse, see its estuaries and mangrove swamps, Uvita is one of the most irresistible tourist destinations in the south of Costa Rica.
It is due to the road, hotel and communication infrastructure, that Uvita became a must-visit destination for thousands of tourists.
In this area we can also find the Uvita and Hermosa beaches, which make the tombolo, that when photographed from air, land and sea makes for its astonishing resemblance to the giant tail of a whale.
But Uvita isn't just that; it's also a starting point for tourists and investigators, who arrive to enjoy and know more about the diverse natural treasures surrounding it.
Uvita is close to "everything": from the touristic community of Dominical to a long list of paradise-like beaches, like Ventanas, Arco, Piñuelas and Manuel Antonio itself, as well as waterfalls and national parks.
It is an internationally known national park, just some dozens of kilometers away, like the Manuel Antonio National Park; and in another park that keeps on attracting visitors from all around the world, for its beauty and privileged natural wonders, like the National Marino Ballena Park, where whales and dolphins go to reproduce.
In front of Uvita, part of the National Marino Ballena Park, the visitor has the opportunity to see the Ballena Island, which due to natural causes send jets of water, like a whale; and you may also see the rocks known as Las Tres Marías.
The sighting of whales and dolphins is a privilege which visitors will most surely be able to enjoy, if they arrived during the appropriate seasons:
Sighting of dolphins between March and April.
Sighting of whales coming from the Northern Hemisphere between December and April.
Sighting of whales coming from the Southern Hemisphere between July and October.
Visitors can also see the spawning of turtles, between August and December; and in all cases, enjoy the tropical beach and warm water, all year round.
In Uvita, it is also possible to enjoy a long list of entertaining activities such as snorkeling, diving, trekking, boat tours, to visit the mangle swamps, see the whales and dolphins, swim, fish, take photos of animals and, of course, to stay in luxury apartments such as our villas.
Villas By Tekoa is a set of four star condos which we make available for visitors who want to enjoy the exuberant Costa Rican Pacific coast, with its beaches and mountains, in the area where Dominical and Uvita meet.
We have a variety of acclimatized rooms with all the facilities so the visitors may enjoy their view of Paradise.
We invite you to know each one of our villas, you'll be delighted and we'll be very happy to help you. Contact us and make your reservation with time!